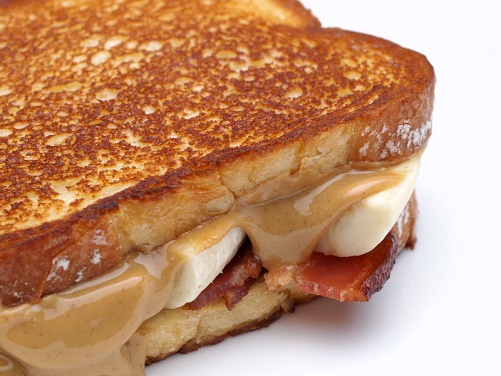 What does Elvis Presley have to do with one of today's most talked about food pairings, where savory meets sweet?
How about his love for a peanut butter, banana and bacon sandwich?
One of the "King's" favorite sandwiches (and its unusual ingredient combo) was a bit before its time in my opinion. The sweetness of the banana nicely complements the salty of the peanut butter, leaving the bacon to provide the savory/umami taste that makes it all work in sync. You could say that in addition to his music, Elvis clearly took peanut butter and jelly to a whole new level!
What we did not know back then was that one of today's hottest culinary trends would be combining sweet ingredients with savory ones to yield some "off the taste chart" delicious recipes. Certainly we know what a sweet taste is all about but where does the savory come from? It's mostly from the umami taste that many foods (like bacon or cheese) provide.