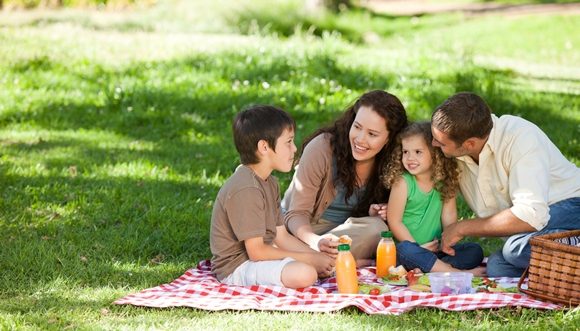 When you think about picnic foods, what comes to mind first?
Hot dogs and hamburgers, hot off the grill? A bucket of fried chicken? A sizzling steak on the BBQ? Mmm, mmm, mmm.
But times are a-changing, including how and what we eat. In the same way we no longer regularly eat bacon and eggs for breakfast, 'traditional' picnic foods don't always have to be on the menu.
Perhaps it's time at your next picnic to eat a little healthier – with picnic salads! Think about having a selection of savory salads as the main course, accompanied by breads, cheeses, vegetable snacks and fresh fruit.
To get started with this novel approach to a picnic, here are a few recipes for savory picnic salads that would be perfect. All of these will excite your guests' umami taste buds, and will help replace the usual meat or poultry entrees. In addition to the salad recipes below, you can find other savory salad recipes on this blog.
The bottom line when it comes to a picnic?
All that's needed are family and friends, good conversation and delicious food – like appetizing picnic salads that are high in flavor and will satisfy the most discriminating tastes.
Dig in!
Thai Sesame Red Cabbage & Carrot Salad                                Russian Potato Salad
Vermont Spinach Salad
Ingredients
½

pound

fresh spinach

1

small onion

sliced

¼

cup

celery

diced

¼

cup

olive oil

2

tablespoons

tarragon vinegar

1 ½

teaspoons

salt

1

clove

garlic pressed

¼

teaspoon

black pepper ground

¼

teaspoon

umami seasoning

(MSG)

4

large eggs

hard-cooked, diced
Instructions
Tear spinach into bite size pieces in salad bowl. Add onion and celery.

Toss spinach mixture with olive oil until leaves are well coated. Chill.

In separate dish, combine vinegar, salt, garlic, pepper and MSG, blending well.

Add eggs to spinach mixture before serving; toss well with vinegar dressing mixture. Serve immediately.
Spicy-Hot Cold Noodle Salad
Ingredients
1

pound

oriental noodles

fresh

4

each scallions

spring or green onions or green onions, chopped

2

teaspoons

hot chili pepper oil

2

teaspoons

sesame oil

2

tablespoons

vinegar

2

tablespoons

sugar

1-½

teaspoons

salt

½

teaspoon

black pepper

1

teaspoon

umami seasoning

MSG

2

sweet red bell peppers

chopped

4

tablespoons

vegetable oil
Instructions
Cook the noodles in boiling water for 3 minutes, then drain.

Rinse them in cold water until they are cool; set aside again to drain.

Make the sauce by mixing together all of the other ingredients (except for vegetable oil).

Heat about 4 tablespoon oil in a wok.

When it is hot, pour in the sauce mixture, and then the noodles.

Stir well to cover the noodles with sauce, then remove and cool.

Serve chilled.