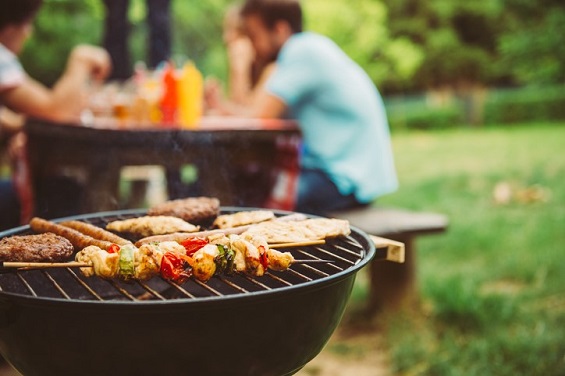 With the lazy, hazy days of summer upon us, we thought it might be a good time to bring back three tantalizing summer grilling recipes from past MSGdish.com blogs.
But first, here are a couple informative quotes from past blogs offering summer grilling recipes that should make you want to try all three recipes.
 "What we didn't know back then was that grilling brings out the savory umami taste of meat. This is primarily due to the Maillard reaction that occurs during the "browning of various meats like steak, when seared and grilled."

"One of the best benefits of grilling is that many of the foods we grill are rich in glutamate, which is what imparts that wonderful umami flavor." 
"No matter what's cookin' on the grill, it always seems like a special treat in a way."
Zesty Orange Grilled Chicken Recipe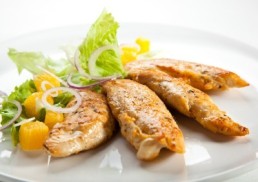 Zesty Orange Grilled Chicken
Though somewhat unconventional, this recipe is a winner! The combination of ingredients and the chicken cooked on the grill results in a unique, delicious dish.
Ingredients
1

tsp. 

dry mustard

1/2

tsp. 

ginger

4 

boneless skinless chicken breast halves

1/4

tsp. 

hot pepper sauce

1/2

tsp. 

Ac'cent® Flavor Enhancer

MSG

1/2

cup 

sweet orange marmalade
Instructions
In a small bowl, combine all ingredients except chicken and blend well.

Preheat grill and oil grill rack.

Brush chicken with orange mixture; place on grill over medium heat (or on charcoal grill 4-6 inches from medium coals.)

Cook 15 to 20 minutes or until chicken is fork-tender and juices run clear, turning occasionally and brushing frequently with orange mixture.

Serve immediately, garnished with sliced scallions, orange wedges and avocado slices if desired.
Smoky Grilled Pork Chops Recipe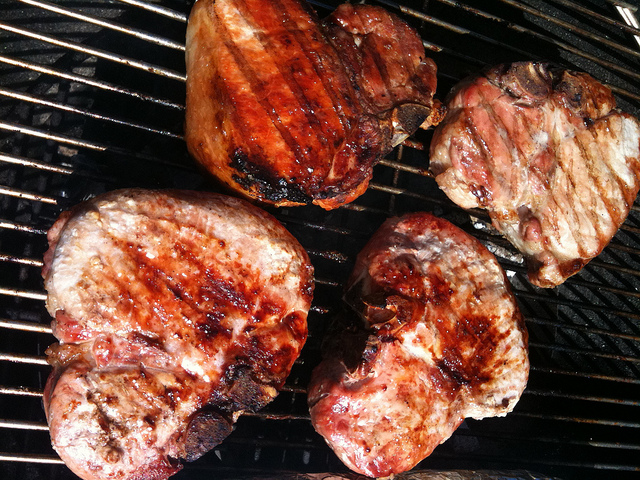 Smoky Grilled Pork Chops
Make ordinary pork chops extraordinary with this tantalizing spice rub.
Ingredients
1

Tbsp.

onion powder

1

Tbsp.

garlic powder

1

Tbsp.

MSG

popular brand names for MSG are Ac'cent® and Ajinomoto®

1

Tbsp.

paprika

1

tsp.

black pepper

2

tsp.

Worcestershire sauce

1

tsp.

liquid smoke

4

boneless pork chops
Instructions
Combine all ingredients, except pork chops, in a small bowl.

Once combined, apply rub on each side of pork chops. Cook on pre-heated grill until cooked through.
Recipe Notes
Because the types of grills vary, please refer to the guidelines recommended by your grill manufacturer.
Recipe courtesy of Sixsistersstuff.com
Photo credit: Flickr user, 305 Seahill
Rendezvous-style Rub Recipe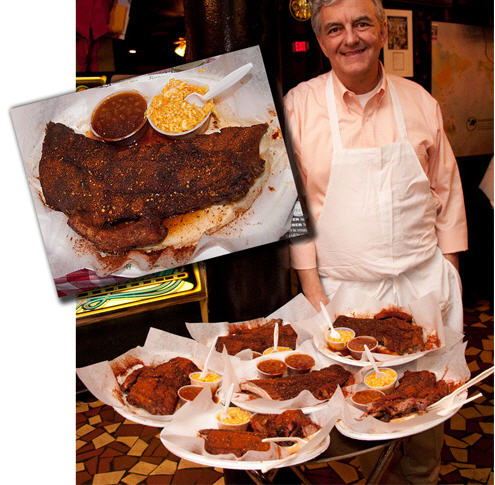 Rendezvous-Style BBQ Rub
Ingredients
8

tablespoons

American paprika

4

tablespoons

powdered garlic

4

tablespoons

mild chili powder

3

tablespoons

ground black pepper

4

teaspoons

whole yellow mustard seed

1

tablespoon

crushed celery seed

1

tablespoon

whole celery seed

1

tablespoon

dried crushed oregano

1

tablespoon

dried crushed thyme

1

tablespoon

whole allspice seeds

1

teaspoon

ground allspice

1

tablespoon

whole coriander seed

1

teaspoon

ground coriander

1

teaspoon

Ac'cent®

aka MSG or "umami seasoning"
Instructions
Mix together all ingredients; use as a dry rub on your choice of meats.

Makes a bit more than two cups, enough for about 12 pounds of ribs. Rub can be stored in an airtight container for months.
Recipe Notes
Recipe courtesy of amazingribs.com
Read more about this oh-so-delicious BBQ rub recipe here.
And a final quote, from the great Ralph Waldo Emerson, suggesting that summer grilling isn't all fun and games, but serves a greater purpose!…
"Let the stoics say what they please, we do not eat for the good of living, but because the meat is savory and the appetite is keen."